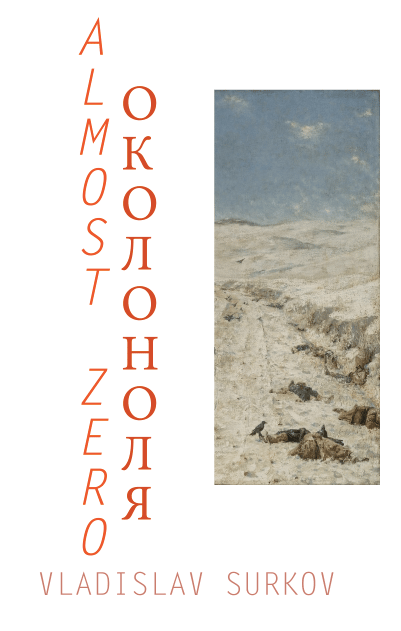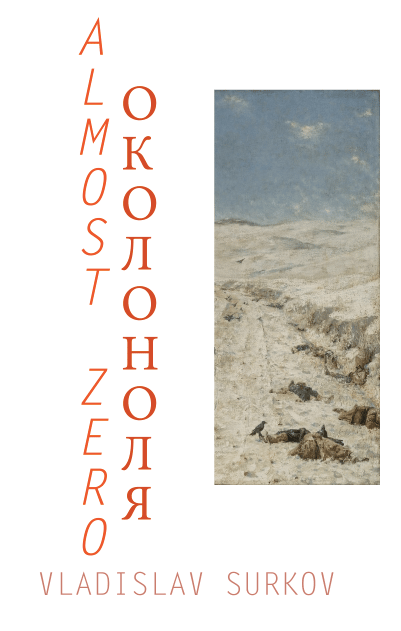 ALMOST ZERO by VLADISLAV SURKOV
$10.00 USD
HARD COPY (LIMITED EDITION) - $75
PDF EBOOK - $10
"Centering on a poetry-loving gangster-cum-book publisher wracked by Hamletian perplexities over a possible snuff film, it unloaded a darkly absurdist, but caustically knowing, satire on the corruptions and machinations of post-Soviet Russia, with a whirligig of literary remixes and references." - Barry Yourgrau, NYRB Daily
Spanning decades of Russian history - from the repressive stagnation of the gerontocracy to the confused restructuring of the market to the global financial crisis of 2007 - ALMOST ZERO is at once a satire, a mystery, and a confession by Russia's notorious operative, the "Gray Cardinal." Bloody, hilarious, despicable, and intensely revealing, this is the first complete English-language translation of Surkov's novel and is a glimpse into the mind of one of the world's most insidious politicians.
INTRODUCTION
(translation by Nastya Valentine)
You, you, you and you, humans, lions, eagles and chickens, do you all have enough room, do you all have enough time? Are you all prepared? Are you all comfortable? Can everybody see everything? Can everybody comfortably see the vast expanse of space into which walk a pair of clowns, a vulgar duo of charlatans, corrupt comics, masters of their craft -- their craft simply teasing and mocking, tormenting and taunting -- also, at any moment ready to perform tragedy, or pastorale, or something of ambiguity.
They fill the vast, empty expanse with themselves and their words, their words which for the ten thousandth time retell a handful of stories, a few classical books, which were written centuries before your time and demand your audience despite being contorted with boredom, they will demand your audience time and time again, in different iterations by different generations, because what are you to do with yourself and how are you supposed to spend your time anyway, if these and other stories are inevitably going to end up reaching you; all of these words came before you, and your existence began after these words.
Two clowns emerge; their names Bim and Bom, Yin and Yang, Adam and Eve, Taira and Minamoto, Vladimir and Estragon, On and Off, Nietzsche and The Void, Masha and The Bears. These names are not their real names, because they do not in fact have real names. They only have their roles. Now they will explain to you an educational tale of the black booker Yegor from the olden times, before there was www, before the 2000s. If you were to show them the honor, if you were to fix your dear and valuable attention on them, they will do their best to imitate life, and commit themselves to showing only the highest form of art-life, using only the necessary normative lexicon, promising to cut away as much as possible scenes of sexual content and rape, while maximizing the presence of monologue and soliloquy, and in all four directions of the vast expanse to tell the tale of the incredible adventures of Yegor and Crybabe.
MORE: http://www.inpatientpress.com/blog/2017/5/3/almost-zero-by-natan-dubovitsky-aka-vladislav-surkov
VLADISLAV SURKOV, born in 1964 to ethnic Russian and Chechen parents in Lipetsk Oblast, is Aide to the President of Russia, Vladimir Putin. A student of theater and economics, Surkov served as First Deputy Chief of Staff of the Presidential Executive Office and writes fiction, poetry, theory of art, and song lyrics, often under the assumed name of Natan Dubovitsky. Widely considered to be the Kremlin's chief propagandist and the architect of its "managed democracy," Surkov is currently banned from entering the European Union and the United States.