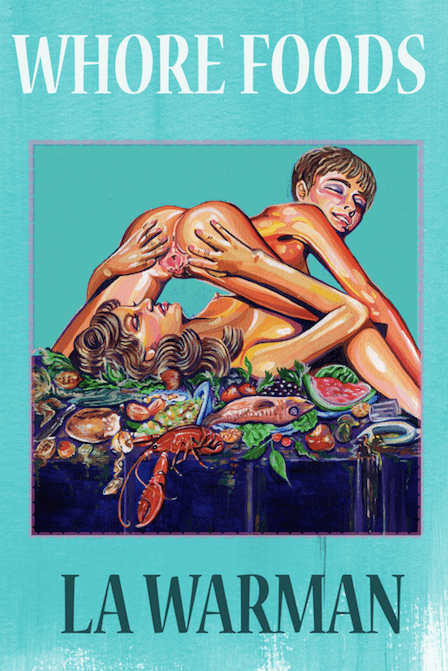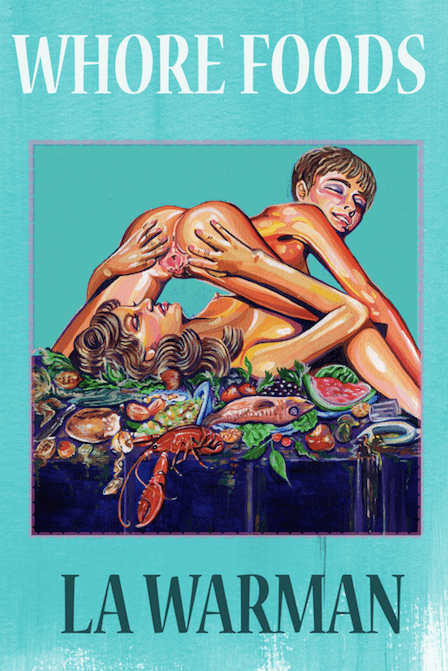 LA WARMAN'S WHORE FOODS
$15.00 USD / Sold Out
$15 - trade paperback, 104 pages
Cover by Sabrina Bockler
WINNER OF THE LAMBDA LITERARY AWARD
The way I put my eyes down when you fight with your husband in line. To shit my pants only a little so you can't see. The smell of watercress, pineapple, rice, and shit. She's in my line again asking me if I eat ass.

Yes, sometimes.

Saw a good ass, saw a real good ass.

About WHORE FOODS

Collecting and expanding pieces from her seminal newsletter detailing the inner and outer sexual life of a grocery store cashier, LA WARMAN'S WHORE FOODS is a guaranteed feast for sore thighs. Now available in raw pulp paperback form for the first time. Cleanup in Aisle 4.
About LA WARMAN

LA Warman is a poet and performer. She is the founder of GLASS PRESS, a publisher of art and poetry on flash drives. Warman has had work in shows at MOCA Cleveland, ICA Philadelphia, Time-Based Art Festival, General Public Collective, Flying Object, A.T.M. Gallery, and Open Engagement. Her chapbooks How to Become a Lesbian and THE CAVE THE CHURCH THE BEDROOM THE MALL were published by Inpatient Press and After Hours Ltd. Warman wrote and directed a 12 hour text and movement performance piece, Break, that premiered at Deli Gallery in 2018. She teaches Erotica classes online at LAWarman.com and in Brooklyn.